The US economy added over two million jobs in 2019. The steady hiring increase during the expansion of jobs has been contributing to gains in consumer spending. Retail sales during the holiday shopping period grew by 3.4 percent over 2018, according to Mastercard Spending Pulse. These statistics contributed to a swell in hiring in retail, which added 41,200 US jobs in December. Leisure and hospitality added 40,000 jobs, and healthcare grew by almost 34,000 positions.
If you are looking for a new job opportunity, contact Jobs Across the World. They will match your skillset with the perfect position. It doesn't matter where you or the job is located.
More Than a Hundred Thousand Jobs Added Each Month
Employers in the United States added 145,000 jobs in December and the unemployment rate remained steady at 3.5 percent. The job market is remaining robust at the beginning of 2020. Throughout 2019, employers added around 175,000 jobs every month. The condition of the job market in the US has become a significant division between President Donald Trump and his Democratic challengers. The president will campaign on low unemployment rates and job growth as he pushes for a second term as president. Democrats will note wages have not increased in a meaningful way for Americans dealing with the high cost of education and health care.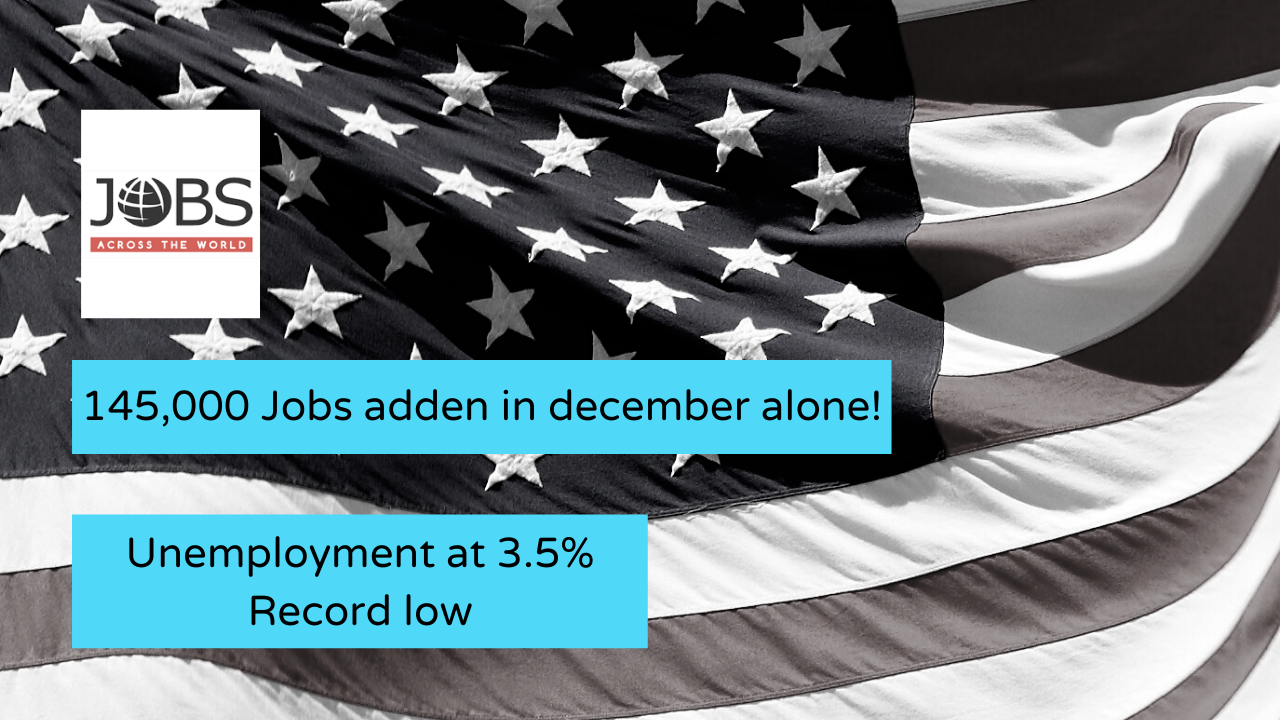 The team of tireless career development experts at Jobs Across the World is dedicated to helping you get hired for the job you want and deserve. Submit your resume and wait for personalized jobs to be sent to your inbox. You will be updated as new positions that match your qualifications become available.
The expectations of a steady job market, an increase in global growth, easing of trade tensions, supportive central banks, and economic growth in the United States of close to two percent will be positives for 2020. Labor economist Julia Pollak said, "We really have the wind at our backs going into 2020." Wages have increased in January, while many states adjust their minimum wage law. Some companies in competitive sectors are planning for wage competition this coming year.
Jobs Across the World accepts international applications for jobs in all sectors no matter where the company or the job seeker is located. Contact them today to find the best position for you.